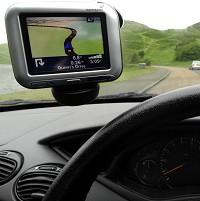 Drivers in London will be even more grateful of their TomTom sat-navs this summer, as the company extends its Map Share service to make daily, free updates on road closures, changes and congestion for the Olympics.
TomTom has created a new 'map task force' which will be charged with monitoring road changes in the capital, including turn restrictions, road closures and traffic flow throughout London 2012.
The updates will be made available for free on a daily basis to customers using Map Share.
The sat-nav company predicts that July 28 will see the most travel disruption for drivers, with over 9,000 road changes expected to be introduced. It believes that the most congestion will occur on August 1, when another 3,000 changes are made.
Announcing the service changes, UK country manager Tom Brown said that they are "going one step further" and will make sure that their customers have "the most up to date map available".
He explained that TomTom devices will be able to make use of dynamic road changes and said that the company's aim was "to give London drivers the best navigation experience possible".
Copyright © Press Association 2012.