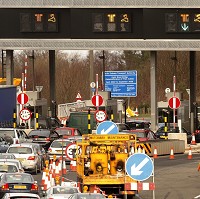 The A14 in Cambridgeshire could be the site of the first new toll road in the UK for a decade, according to a consultation document published by the Highways Agency.
Drivers would be charged between £1 and £1.50 to use the improved stretch of road, built to combat traffic jams in the region. Chancellor George Osborne's Autumn Statement made reference to the Government exploring opportunities for tolling in "very limited circumstances", to fund significant new capacity on the country's roads.
The 25-mile stretch of the A14 is heavily-congested, but not since the 27-mile stretch of the M6 between Birmingham and Wolverhampton was opened in 2003 has the UK welcomed a toll route.
In defending the move, the Highways Agency commented that the Queen Elizabeth Bridge at Dartford, the M6 Toll and the Second Severn Crossing are all major highway infrastructure projects funded by using tolls.
The Highways Agency believes the "scale and cost" of the A14 scheme justifies asking road users to make a direct contribution to the cost of improvements, although drivers already embittered by rising fuel, road tax andcar insurance costs may disagree.
Hold-ups around Cambridge and Huntingdon are hoped to be eased by the improvements and if approved, the £1.6 billion construction would begin in 2016, lasting three or four years.
Copyright Press Association 2013