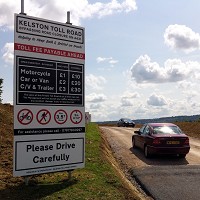 A businessman charging drivers £2 a trip to use a private bypass he built says he should recoup costs by the end of the year.
Mike Watts decided to open the private toll road to bypass the closed part of the Kelston Road between Bath and Bristol after dreaming up the idea in the pub.
The section of the A431 was closed earlier this year after a landslip and is not due to be reopened until the end of 2014.
The new makeshift road reopens the commuter route between Bath and Bristol.
Mr Watts, 62, now has until Christmas to make back his £300,000 investment or face losing his own home.
He says the bypass costs about £1,000 a day to run but remains confident he will recoup his funds within the next five months.
This is despite the costs of building the road reaching £150,000 - three times higher than his original estimate of £50,000.
Motorists using the route save themselves a 14-mile detour in each direction, and can buy a pass a book of 12 passes for the price of 10.
But officials warn that the road, made from rolled chippings and passing through a farmer's field, does not have planning permission or safety certificates - stressing the importance of having good breakdown cover .
Copyright Press Association 2014