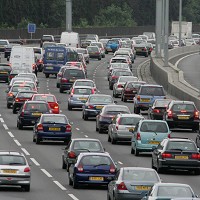 Motoring groups have raised concerns that drivers could be forced to pay higher toll charges under Government plans to sell off the Dartford Crossing on the M25.
The Government introduced new legislation, which meant that although the crossing was paid for by 2002, the fee could become a charge and not a toll.
In April 2003 the toll became a charge with the Department for Transport saying that money raised would "only be spent on transport improvements which will affect motorists".
Motorists in cars currently have to pay £1.50 between 6am and 10pm while those in lorries are charged £3.70.
The crossing, on the Essex-Kent border section of the M25, is used by more than 50 million vehicles each year, averaging around 145,000 vehicles a day.
An RAC Foundation spokesman said: "With rights come responsibilities. Any new owners of the crossing must have an obligation to maintain it and look at ways at reducing congestion on this vital section of the road network."
A Department for Transport spokesman said: "Should the Dartford Crossing be sold, the Government will continue to regulate charges in order to protect the interests of road users.
Copyright © Press Association 2009