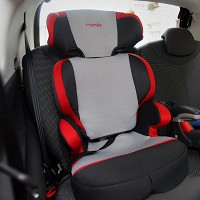 A toddler was accidentally flung from a car on a busy roundabout in Dorset this week after unfastening his baby seat, according to Dorset Police.
The two-year old only sustained cuts and bruises to his face after opening the door and being thrown out of his mother's car on the A532 in West Stafford.
The toddler's mother, from Dorchester, was driving her two young children around the roundabout in her Renault Clio during rush hour when the child was ejected from the car.
According to Dorset Police, the child managed to unfasten the seat belt holding the baby seat in place.
A police spokesman said: "A car was going round a roundabout when the car door flew open and a child in a child seat flew out on to the road.
"It appears during the journey the child managed to undo the seat belt allowing the seat to come loose.
"As the car negotiated the roundabout the child attached to the seat belt was ejected in to the road.
"Hospital staff confirmed the child seat has prevented more serious injuries to the child."
The toddler was kept in overnight at Dorset County Hospital in Dorchester as a precaution for slight injuries.
Dorset Police are investigating the incident.
Copyright © Press Association 2009