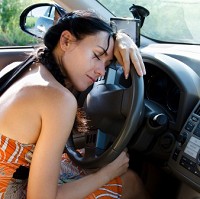 Tips on keeping the dangers of jet-lag fatigue to a minimum are being issued to drivers of company cars and vans by risk management company Interactive Driving Systems.
Following a major accident that resulted in death and a prominent court case a few years back that involved a jet-lagged driver of a rental vehicle who had just got off an overnight flight from the US to the UK, Interactive Driving Systems carried out safety research. The company is now releasing its guidance on jet-lag and driving.
Tiredness due to jet-lag is a common condition that most passengers suffer after flying over time zones. The company has drawn up the following advice:
1. When company employees have no choice but to travel, care should be taken when drawing up thejourney planner .
2. Before boarding a long haul flight, make sure the time for arrival and the planning for the trip to the next destination are clear. Make sure the onward journey route is fine and allow plenty of time for travel.
3. Anyone making an international trip should not drive a rental car upon arrival to avoid the risks of jet-lag, tiredness and the increased chance of collision.
4. When colleagues arrive at their destination, they should take the safest, most appropriate and cost-effective way to their final stop, including a car service, hotel shuttle, taxi or public transport.
5. The first ground transport option for reaching hotels, workplaces, home, etc, should be local shuttle services.
6. If colleagues are due to arrive late after a long haul flight, arrangements should be made for someone to meet them at the airport and take them home.
7. Colleagues travelling to a foreign country should not drive a vehicle without first taking into account the local road conditions, rules, laws, customs and alternative transport options.
8. If travellers on business are going to a country where they do not know the roads or where driving varies greatly from their home country, they should not drive.
9. Colleagues must have a valid driver's license from their home country if they are not local nationals.
10. When there is no choice but to rent a vehicle, make the arrangements via an approved travel company.
Copyright Press Association 2013