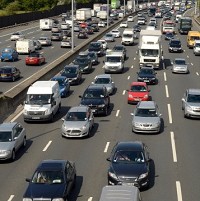 Thousands of new university students are preparing to head off to university in what could be their first long-distance road trip behind the wheel.
To help ensure their journey to university goes safely and smoothly, driving experts have issued a tailored set of handy tips.
Students are likely to be taking along bags full of clothes and boxes laden with books, food and supplies to get them through their first term.
The Institute of Advanced Motorists (IAM) is reminding them to make sure they don't overload their cars; pack them securely and leave room for any passengers travelling with them.
Drivers should make sure they set off with a full tank of fuel to avoid running out during the journey and remember that a luggage-heavy vehicle will use far more petrol or diesel.
IAM is also reminding motorists, who may only recently have passed their driving tests, to make sure their windscreen wipers are in good working order and to switch off their mobile phones and tablets when driving to avoid potentially dangerous distractions.
Those making the journey at night, meanwhile, should try to stick to well-lit roads and drive at a reduced speed.
Copyright Press Association 2014