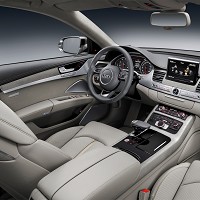 Audi has updated its A8 luxury sedan but the changes are so subtle they are hardly recognisable to the untrained eye.
The German car giant claims it has "finessed" the car with slight differences to the bonnet, bumper, grille and headlight units, some of which are necessary to accommodate its new range of engines.
Buyers can choose LED 'MatrixBeam' headlights as an option. They react to the positions of other vehicles by altering the number of LEDs that turn on to prevent dazzle while still lighting up the road ahead.
The A8 is available with more powerful and fuel-efficient engines, including the supercharged 3.0 TFSI petrol and V8 twin-turbo 4.0 TFSI units that now produce 306bhp and 429bhp respectively, up on the 286bhp and 414bhp of their predecessors. The 3.0 TDI 'clean diesel' has been boosted from 246bhp to 254bhp while the 4.2 version now creates 380bhp and its torque output is increased by 37lb.ft to 627lb.ft.
The 6.3-litre W12 engine now has the Cylinder-on-Demand system that reduces fuel use by not using six cylinders when possible to achieve 24.1mpg. The A8 hybrid combines a 2.0-litre turbocharged petrol engine with an electric motor to do around 45mpg and emit just 147g/km of CO2. All new Audis come with three years of breakdown cover in conjunction with RAC Motoring Services.
Copyright Press Association 2013