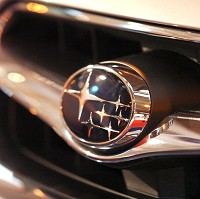 A lucky little boy managed to escape with only a bump to the head after he got into his family's car, started the automatic engine and drove down two embankments.
The unlikely ride ended when the three-year-old drove into the garden of a nearby pub.
It is thankfully thought he was never close to any main roads and did not encounter any pedestrians during the incident in Henley, near Midhurst, West Sussex.
A woman looking after the 16th century Duke of Cumberland Arms pub while the owners were away did not wish to comment.
A spokesman for Sussex Police explained that the youngster managed to unlock the family's automatic Subaru Impreza, then started the engine and drove the car out of the driveway and down two embankments before ending up in the pub garden.
The little boy hit his head on the steering wheel and was taken to hospital for further examination, the spokesman said, adding that the car suffered some damage.
Copyright Press Association 2014