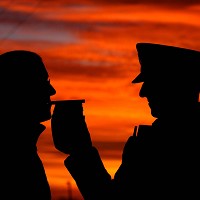 Most people support reducing the drink-drive limit in England and Wales to the match that of Scotland, claims an alcohol health group.
The current limit of 80mg of alcohol in 100ml of blood is the highest anywhere in Europe, with the exception of Malta.
Scotland lowered its limit to 50mg in 2014, in a bid to cut the number of deaths and serious injuries on its roads.
A poll of 4,869 people by t he Alcohol Health Alliance (AHA) reveals 77% support a 50mg limit to bring England and Wales in line with Scotland.
Three police and crime commissioners recently issued calls for the drink-drive limit in England and Wales to be lowered.
Vera Baird, Ron Hogg and Barry Coppinger, for Northumbria, Durham and Cleveland, want to see the limit reduced to the same level as north of the border.
The House of Lords is set to debate a Private Members' Bill on dropping the limit from 80mg to 50mg.
"We welcome the debate that Lord Brooke's Bill brings and urge Government to listen to motorist opinion, consider carefully what is happening in Scotland and reduce the drink drive limit," says Nicholas Lyes, public affairs manager for the RAC.
AHA claims alcohol-related road traffic offences fell by 17% in Scotland in the first three months after it lowered its drink-drive limit.
Research has also shown that lowering the limit in England and Wales to 50mg would save more than 100 lives a year and £300 million in costs to the emergency services and hospitals.
Copyright Press Association 2016. Motoring News articles do not reflect the RAC's views unless clearly stated.