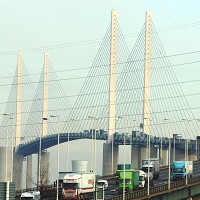 The Government has revealed three options for a new Lower Thames crossing to ease congestion around the city and help promote economic growth.
Roads Minister Stephen Hammond has launched a consultation into the plans that could involve work on the A282 Dartford-Thurrock crossing (option A), a crossing to connect the A2 Swanscombe Peninsula with the A1089 (option B), or to connect the M2 with the A13 and the M25 between junctions 29 and 30 (option C).
The latter option could also involve widening the A229 between the M2 and M20.
Whichever scheme is preferred, what is certain is that urgent action is needed to make sure the country's road network can cope with an expected 20% rise in traffic over the next 30 years, Mr Hammond said.
He said tough decisions need to be made to make sure the road network is maintained for local residents, commuters and businesses and he urged anyone who uses the existing Dartford-Thurrock crossing forjourneys to put forward their opinions on the nature and location of the new Lower Thames crossing.
Copyright Press Association 2013