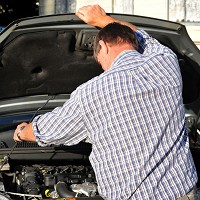 New research from Mobil1 has found that 75% of Britons are not aware of how to check the oil in their own car.
Mobil1's research discovered that 94% of motorists were not aware of the benefits of using the right oil for their engine, including making the engine last longer withoutbreaking down , or improving fuel economy. This means that many drivers are causing unnecessary costs for themselves further down the line.
The survey was commissioned to look into motorists' habits when it came to servicing and maintaining their car. Mobil1 says that the findings show that Britain's motorists are not as clued up as they could be when it comes to cutting motoring costs.
Dan McGoldrick, Field Marketing Advisor UK, Nordic and Benelux for ExxonMobil Lubricants & Specialities, makers of Mobil 1, stated that using the correct oil can have a number of potential benefits, including improving fuel economy and helping engines last longer. He went on to say that checking oil is "essential" for cars to run "smoothly and efficiently".
The survey also found that nearly half of the drivers questioned did not know why car engines needed oil.
Copyright © Press Association 2012.