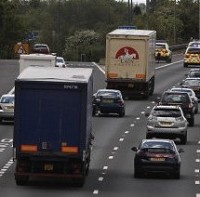 Thousands of motorists have been assisted by recovery units since Greater Manchester's smart motorway project started last July.
Highways England 's (HE) latest statistics show that as many as 3,690 cars, HGVs or other vehicles have suffered breakdowns along the 17-mile (27.3km) motorway stretch. This tally includes 297 lorries.
The area involved links the M60's junction 8 near Sale with the M62's junction 20 near Rochdale.
The £208 million project is aimed at speeding up journey times and reducing congestion.
Motorists can enjoy a round-the-clock recovery service from a 17-vehicle-strong support team free of charge before the work is completed.
In addition, officials have established a makeshift CCTV control centre at the M62's junction 19 near Heywood.
From here, officers are monitoring pictures from a total of 130 cameras so they can react swiftly to incidents and ensure the motorway keeps moving.
New figures show that electrical or mechanical glitches have been behind half (or 1,875) the breakdowns since last July.
Punctures accounted for one in five breakdowns (685) and motorway accidents for little over a tenth (430).
Other breakdown causes included vehicles running out of diesel or petrol (281 incidents) and 22 motorists putting diesel into petrol tanks or vice-versa.
Eighteen dumped cars and nine vehicles were also included in the statistics.
Highways England said that this part of the highways network is one of the UK's busiest motorways with about 180,000 cars, lorries and buses using it daily.
Its project manager Paul Hampson says this means it is "vital" that traffic keeps moving while road network upgrades are being carried out.
He said that overhead electronic messages will warn motorists about any breakdowns once the new smart motorway scheme is finished during autumn 2017.
Refuge areas will also be opened on hard shoulder-less stretches of the revamped M62, Mr Hampson added.
A 300-strong workforce is undertaking the project, mainly overnight to ensure that at least three lanes are accessible in both directions.
Meanwhile, drivers and residents alike can learn more about Manchester's new smart motorway at a special drop-in event.
This is being staged at Worsley Brow's Novotel hotel on Wednesday June 3 from 1pm to 8pm.
Copyright Press Association 2015