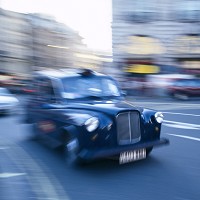 Fines worth a total of £845,000 were sent to motorists for driving in Olympic Games Lanes, Transport for London (TfL) chiefs have said.
Fines of £130 were issued to 6,500 drivers for using the special lanes, which have been reserved for athletes, officials and the media from July 25.
For the first six days after the lanes - which were implemented on 30 miles (48km) of road - came into effect, only warnings were issued, in order to allow drivers to adjust to the new regulations.
TfL said the there had been a 98% compliance rate thanks to the changeover period and over 150 signs alerting drivers to the lanes.
Motorists were advised to usejourney planner services to plan their routes in advance and avoid hotspots.
TfL's chief operating officer for surface transport, Garrett Emmerson, said the games Lanes were crucial to ensure athletes and other key personnel were on time for Olympic and Paralympic events.
He said the lanes had worked well and had been used flexibly by keeping them open to the general public whenever possible.
He added: "We had no interest in unnecessarily penalising drivers and, with a very high compliance rate of around 98%, the overwhelming majority followed the requirement to stay out of Games Lanes when they were in use."
Copyright Press Association 2012