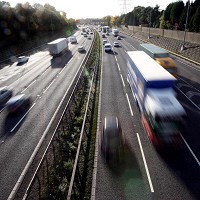 Almost a third of motorists would consider leaving the scene of a collision if only minor damage was caused to the other vehicle, research has revealed.
A poll found 30% may not wait for the other car's owners to come back or leave contact details to allow them to get in touch.
The figure was much lower if extensive damage was caused, with only 4% admitting they would still leave.
Drivers' honesty appears to vary widely according to their age, where they live and how much they earn, according to the survey.
In Scotland, nearly two-thirds (63%) said they would ensure they could be contacted about an accident, and only 22% said they would consider making off after an accidental collision - compared to more than a third (36%) who would consider making a getaway in the North East.
Older drivers were found to be generally more honest, with only 1% of those aged 65 and older saying they would not stop after hitting another vehicle. That compares with 7% of those between the ages of 25 and 34.
But whether you are at fault or not, the survey, commissioned by ContractHireAndLeasing.com, should remind all drivers of the importance of having suitable car insurance .
Copyright Press Association 2014