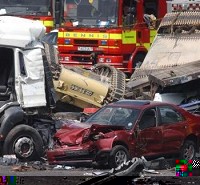 Only 272 road deaths were reported in Scotland last year, a third successive yearly fall and the fewest for 60 years, according to official government figures.
That is 100 below the annual average for the early 90s and less than half the early 1950s toll. Total 2008 dead and injured numbered 15,563, 4% down on 2007.
Of those, 291 were children, 42% below the average for the mid-1990s. Deaths last year also included 153 car drivers and passengers, 61 pedestrians, 34 motorcyclists and nine cyclists.
Meanwhile, the number seriously injured was 6% more than last year, a percentage that equalled a fall in the much larger number who were slightly injured.
The figures accompany road-safety proposals that include Scotland setting its own road safety targets, which aim to reduce serious injuries by half and road deaths by 40% over the next decade.
Says transport minister Stewart Stevenson: "It is absolutely intolerable that people are still dying on our roads each day, and the number of children being involved in road accidents remains a particular concern."
Copyright © Press Association 2009