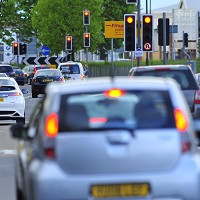 Cutting down on the number of traffic lights across the UK could provide a boost to the economy, according to a think-tank.
The Institute of Economic Affairs claims just a two-minute delay to every car journey equates to a loss of approximately £16 billion a year.
It says the country could afford to lose around 80% of traffic lights that are responsible for causing "unnecessary delays".
The report - Seeing Red: Traffic Controls And The Economy - describes the cumulative effect of traffic regulation measures as an enormous burden on the economy, as well as something that imposes huge costs on road users, taxpayers and communities nationwide.
It also says a high proportion of traffic regulation, including speed cameras, is detrimental to road safety.
Authors suggest trials in which traffic lights could be switched off for several weeks to observe the impact.
The report says the number of traffic lights in the UK increased by 25% from 2000 to 2014, while the number of speed cameras went from one to over 3,000 from 1992 to 2012.
Copyright Press Association 2016. Motoring News articles do not reflect the RAC's views unless clearly stated.