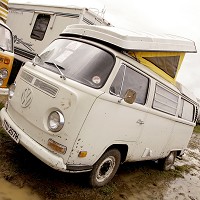 Classic motors like Minis, Ford Escorts and VW Campervans are becoming increasingly attractive to thieves because of the high value of parts and lack of modern security features, according to a vehicle recovery company.
TRACKER, which specialises in recovering stolen cars, is advising owners to beef up the security of their classic vehicles to make them less tempting targets.
The head of the company's police relationship team, Stuart Chapman, says many thieves are stealing old cars to sell off the parts, so work-in-progress vehicles left unsecured on driveways are proving popular with criminals. He said many older cars do not have the same level of security features as more modern vehicles, making them easier to steal and also affecting the cost of car insurance .
Mr Chapman confirmed that classic car thefts are on the rise and he said many owners need to do more to make sure their "pride and joy" is safe.
He said they should not be put off from installing alarms and immobilisers just because they can affect the look of their vehicle.
Copyright Press Association 2013