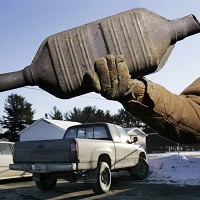 Thieves are increasingly targeting catalytic converters because they contain precious metals, researchers have warned.
The number of such thefts from motor vehicles more than doubled between 2010 and 2012, a BBC investigation revealed.
Nearly 25,000 thefts were reported to police forces across the UK between 2010 and the first half of this year, according to information obtained from 40 UK police forces.
Thieves are ripping out the devices, which reduce poisonous gases from the vehicle's exhaust system, to strip out precious metals such as platinum and palladium - leaving motorists facing repair bills running into thousands of pounds.
Police said vans and 4x4 vehicles, which are easy to crawl underneath, are particularly at risk and all drivers should check their car insurance is up to date.
Reported thefts increased more than tenfold in Bedfordshire and South Yorkshire, while they more than tripled across Cheshire, Greater Manchester and Leicestershire during the same period.
British Transport Police analyst James Goodson said the figure offered at a local level by scrap dealers is directly affected by the global value of metals such as platinum and palladium and a price spike is often accompanied by a corresponding rise in crime.
RAC spokesman Simon Williams said: "There has never been a more expensive time to be a motorist, what with the high price of fuel, insurance and maintenance costs so this is the last thing hard-pressed drivers should have to be putting up with, especially with Christmas fast approaching. Unfortunately, motorists need to get in the habit of taking extra precautions to guard against this new type of crime.
"The best advice is to park in a garage, or if that's not an option, in a well-lit place that is likely to put thieves off, or as close to home as possible."
Copyright Press Association 2013