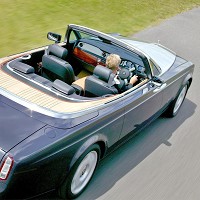 Are you looking for a new car to impress the ladies? Well hit the brakes. Don't look any further until you've read this.
A survey of British women has identified the car their 'dream man' would drive, along with the ideal location they'd like to be taken for a spin.
The research shows over one in five (22%) women would love their Mr Perfect to drive a convertible. This narrowly edges out competition from a luxury saloon and a 4x4 - which both received 21% of the vote each.
Just 3% of those surveyed said they'd like their dream man to drive an estate.
As for where they'd like to be taken in their dream vehicle, 35% of women favour a scenic journey along the Amalfi coast in Italy, preferably in a sports car with the top down.
The second most popular driving destination was in the Scottish Highlands, where they'd love to travel in a luxury saloon.
Men rushing out to buy a Ferrari or Porsche should maybe think twice, as only 2% and 3% of women said these brands are their most favoured. The favourite was an Audi with 18%. BMW came second with 12%.
The survey, by Europcar, also found two thirds of women (66%) want their perfect man to be able to change a tyre.
Some 43% even said they'd like a man who would fill up their car with fuel.
Copyright Press Association 2014