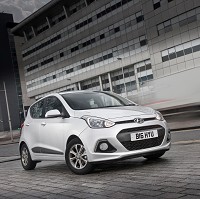 Hyundai's new-style city car has scooped the top honour at this year's Car Dealer Power presentation.
Its new-gen i10 won Car of the Year, overcoming keen competition from models such as the popular Skoda Octavia and Ford's Fiesta ST.
The South Korean manufacturer is so confident about the model's reliability that it offers a sector-leading five-year warranty regardless of how many miles it travels.
This isn't the only reason that car dealers from across the UK voted for it. The i10's refinement, appearance and good value also impressed the dealers.
It has been Hyundai UK's top performer over the last five years.
Hyundai's Tony Whitehorn says the latest make, which starts at £8,595, has been "hugely significant" to its business.
The company has shifted 12,170 models across the country since its launch at the start of the year.
Hundreds of UK dealers took part in this year's survey which makes it the most comprehensive of its kind in the industry.
Copyright Press Association 2014