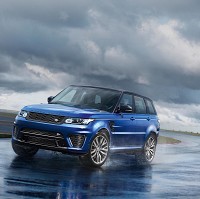 The quickest, most powerful Land Rover yet is debuting in California this week.
The Range Rover Sport SVR can hit 60mph from scratch in just 4.5 seconds, while its maximum speed is 162mph.
Regular customers can rest assured that it also comes with Range Rover's trademark reliability, the the latest incarnation aims to go head-to-head with Porsche in next year's performance SUV market.
The 550 horsepower model will be unveiled on Pebble Beach this Thursday with orders being placed from this October and first sales expected early next year at £93,450.
The British luxury manufacturer describes its performance as "exhilarating" and ready to satisfy this most demanding of customer sets.
Land Rover's John Edwards says the new model takes its dynamic potential to a higher level and is even more individualistic both internally and externally.
He claims there is no more capable-performing SUV on the planet than the Sport SVR.
Copyright Press Association 2014