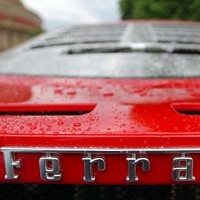 Sports car drivers are facing charges over what has been dubbed "the world's most expensive car crash".
Japanese police want to prosecute 10 drivers over a £2.6 million chain-reaction shunt involving eight Ferraris, one Lamborghini and a Mercedes-Benz on a Shimonoseki highway.
The driver of the lead Ferrari lost control and those steering nine other supercars and another three vehicles failed to apply their brakes in time.
One car driving on the opposite carriageway was also involved.
Ten motorists, aged between 38 and 61, were breaking the speed limit or not paying enough care to the road.
Of course, it's not every day you get to claim on yourcar insurance for a smash causing a total of £2.6 million worth of damage. But whatever the cost, insured drivers everywhere have peace of mind that they are covered.
Police sent prosecutors the case against a 61-year-old man and nine others last Thursday on suspicion of violating traffic laws in December 2011. A decision will then be made whether to prosecute.
Yamaguchi prefectural police official Shinji Tanaka said: "Some of the drivers said they didn't really know the specifications of their cars or just how powerful their acceleration was."
Copyright © Press Association 2013