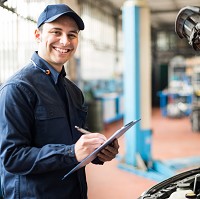 Motorists can get further peace of mind when they come to choose mechanics, thanks to a Government-backed "good garage" initiative.
It means that drivers can view lists of the most trusted car repair firms in their area at the click of an internet button, especially as the top 11 have just been announced.
For years, motorists have been able to use the RAC's nationwide approved garage network , which offers honest pricing, great customer service and quality work.
The Motor Codes list also offers a guide to reliable garages, whether motorists need to remedy a fault which has led to breakdown cover call-outs, or a service.
The organisation is responsible for motor industry self-regulation via consumer practice codes.
It has chosen 11 area winners across 8,000 garages nationwide.
The choice is based on the views of the motorists themselves, following voting which lasted three months.
Inverness's Anderson Clark, Belfast's SERE and Pontypool's Broad Street Motors were the victors in Scotland, Northern Ireland and Wales respectively.
England was split into eight different areas and the UK-wide champion will be announced later this month.
Boroughbridge's Alexander's Prestige (Yorkshire), Durham's AJ Auto Medics (North East) and Bolton's Whitecroft Garage (North West) were among the regional champions.
Bushey's Crown Honda in Hertfordshire, Deptford's Test Centre and Burton on Trent's Crescent Motoring won the East England, South East and West Midlands titles respectively.
Melton Mowbray's Eden Tyre and Servicing (East Midlands) and Swindon's Pebley Beach (South West) made up the list of best English garages.
Motor Codes managing director Mark Terry said its approved garages offer drivers first-class service throughout Britain.
Mr Terry said his firm was "delighted" to get the chance to highlight the sector's best companies.
He called the 11 regional victors "great ambassadors" within their industry.
An overall UK winner is being named at Auto Express's Car of the Year Awards on June 30.
RAC spokesman Simon Williams said: "Finding a garage you can trust to look after your car at a reasonable price is vital for every motorist.
"This is why we created RAC Garage Compare as it very simply allows people to research garages in their area to find out prices while at the same time providing an insight into what benefits and levels of customer service each offers."
Copyright Press Association 2015
https://racgaragecompare.co.uk/ (RAC Garage Compare)