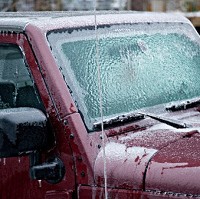 A study by Halfords has discovered 80% of motorists frequently leave their engine running so the heat of the car can melt ice and snow from the inside.
The car maintenance and equipment firm predicts that on a daily basis, this behaviour results in over £9 million worth of wasted fuel per day over the winter.
That means £54 million has been squandered in the recent cold snap.
Something else motorists may not be aware of is that having an idle engine could result in a fine of £20 due to environment regulations, which could in turn result in higher car insurance premiums.
Halfords Commercial Director, Paul McClenaghan, said: "It may be very tempting to wait for the engine and heater to clear your windscreen, rather than walking around the car using an ice scraper and de-icer spray to do it properly. However, drivers who do this are literally burning money in terms of the cost of wasted fuel."
Halfords discovered that a typical driver using his engine and heating to defrost for four minutes would be using as much as a third of a litre of petrol.
Copyright Press Association 2013