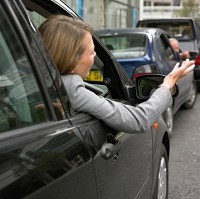 The long-suffering average British car commuter drives the equivalent of going to Turkey and back each year - and pays up to £1,000 in fuel for the privilege.
The typical commuter drives an annual average of 3,326 miles getting to and from work, spending an average of £840 each on petrol or diesel.
East of England car commuters are the biggest losers, according to the new data from Santander 123 cashback credit card.
Their annual £1,008 work commute fuel spend outstrips all other regions. Drivers in the East Midlands fork out a typical £960, compared to Londoners who spend an average of £948.
Scottish commuters drive the furthest to and from work - a whopping 3,934 miles per year. They are closely followed by those in the East of England (3,907 miles).
Santander Cards CEO Alan Mathewson said the two-thirds of employees who drive to and from work did not realise just how much mileage and fuel spend they were clocking up.
With all this extra mileage totting up unnoticed, it is seems more sensible than ever to invest in goodbreakdown cover .
Mr Mathewson said car commuters could make 'significant' savings by adopting initiatives such as car-pooling.
Copyright Press Association 2013