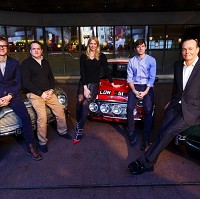 A new TV show devoted exclusively to classic cars launches this Thursday, February 5.
Model and enthusiast Jodie Kidd and motor expert Quentin Willson will host Channel 5's The Classic Car Show .
Thirteen one-hour HD-filmed programmes will feature top celebrities, as well as offer useful advice for anyone maintaining, restoring or buying a car from this genre.
It will focus on the worldwide growth in the classic vehicle industry and how to spot a bargain before prices are driven up.
Willson says the show will be groundbreaking and "amazing", while Kidd describes the cars featured as "sexy" and "beautiful". The programme offers viewers a "backstage pass" for all things classic, she adds.
The opening episode sees Willson visit California in celebration of the iconic Ford Mustang's golden jubilee, while Kidd encounters a £10 million-plus Ferrari 250 GT California Spyder.
Rapper Tinie Tempah and model David Gandy are among the celebs featured, while the latest Mercedes SLS AMG and earliest 300 SL Gullwing both come up for discussion.
The much-loved Triumph TR7 is also among the cars under The Classic Car Show microscope in episode one at 7pm.
Copyright Press Association 2015