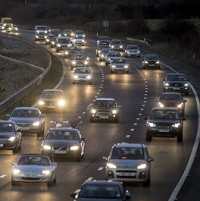 Over 4 million cars are expected on the UK's roads on Thursday, as Britain embarks on the great Christmas Eve getaway.
RAC information suggests there'll be an extra 100,000 journeys on the UK's roads this December 24 compared to the same time last year.
It predicts that 4.1 million motors will be out and about, dropping by 600,000 across December 25 and 26.
This is part of a possible triple-whammy for drivers hoping to arrive at their destination on time over the festive period.
As well as huge traffic volumes, pressure on the highways will be hit by roadworks and massive swathes of the UK's rail network closing on Thursday.
Drivers still face nearly 200 miles (321.8km) of main road and motorway repairs across 184 projects which cannot be halted over Christmas, the RAC says.
Rod Dennis, RAC spokesman for traffic watch , says: "We are in the middle of the biggest road upgrade programme in a generation. Historically speaking, there is a huge quantity of roadworks still in place.
"There are still 196 miles (315.4km) of motorways and major roads with works at some of the major pinch points."
Almost 400 miles (643.7km) of Britain's roadworks were taken away on Wednesday morning in time for the festive rush.
But trains which usually take passengers to Britain's two largest airports - Heathrow and Gatwick - will stop operating from Thursday. This will bring more traffic and likely delays across the road network as travellers look for alternatives.
Many rail links will be closed for days as Network Rail's unprecedented engineering programme brings trains to a halt.
Heathrow-bound trains normally only stop running on December 25. This year that figure is being extended to three days because of Crossrail repairs.
Gatwick Express services face a 10-day shutdown from December 24 from the 9.15pm Victoria-departing train. Services will resume on January 4.
Copyright Press Association 2015. Motoring News articles do not reflect the RAC's views unless clearly stated.