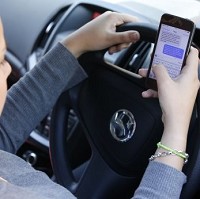 Motorists face a new weapon in the war on irresponsible driving.
An undercover HGV equipped with video camera will detect motorists who phone, text or use other dangerous and irresponsible driving behaviours.
The scheme has already been trialled in Warwickshire, Thames Valley, Hampshire, Surrey and Sussex in 2014. Highways Agency officials now plan to roll it out across the country to leading A-roads and motorways this spring, according to Daily Mail reports.
RAC Foundation director Stephen Glaister said in an interview with the Mail: "Police will literally be looking down on drivers to check they are concentrating on the road and not being distracted by the latest message on their phone.
Professor Glaister added: "Motorways are our safest roads but given the speeds involved and the mix of traffic, when things go wrong the results can be serious.
"Rooting out bad and anti-social behaviour is important. Now motorists tempted to break the law are likely to have traffic officers peering right over their shoulders."
The so-called "Operation Tramline" caught 462 offenders during the three-month trial scheme, primarily for seat belt and mobile phone misdemeanours.
The operation involves a police motorist supported by a video camera-operating colleague in the unmarked HGV, a police car and a pair of police motorcyclists. Offenders are dealt with through education and enforcement.
The lorry gives officers an "ideal" raised vantage point and also helps to detect drug and drink drivers, as well as speedsters.
The Agency said the scheme will be implemented across the country as of March 30.
Copyright Press Association 2015