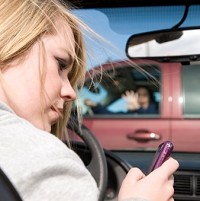 Teenagers can receive scores of text messages a day, but one message not getting through is that they shouldn't text and drive, according to a new survey.
One politician called the practice a "national epidemic", with more than two in five (43%) driving-age students admitting to texting while driving at least once in the past 30 days.
Text-driving has been found to raise the risk of a car accident - already the leading cause of death among adolescents - by 23 times, with some people saying that it is more dangerous than drink-driving.
A genderbreakdown of the findings showed that males (46%) are more likely to text while driving than females (40%).
Teenagers who admitted texting while driving are more likely to take other risks such as driving under the influence of alcohol, having unprotected sex and using an indoor tanning device.
Principal investigator Alexandra Bailin, a research assistant at Cohen Children's Medical Centre of New York, said: "Texting while driving has become, in the words of Transportation Secretary Ray LaHood, a 'national epidemic'."
The study, which polled high school students in 2011, was presented at the Pediatric Academic Societies (PAS) annual meeting in Washington, DC.
Copyright © Press Association 2013