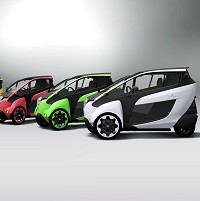 Public testing has started on Toyota's three-wheeled, ultra-compact i-Road vehicle.
Ten of the 300kg, slim-shaped cars have taken to the roads of Tokyo where they will be driven around until June in order to get a wide range of feedback. The cars will be driven by a variety of different people from industry experts to members of the general public.
The i-Road claims to be as nimble to handle in traffic as a scooter, but with the stability of a car as a result of its two-at-the-front-one-at-the-rear wheel configuration.
It has also been introduced to Toyota's low-carbon transport project, Ha:mo, where more research and testing is being carried out on the vehicle's potential as a valuable addition to community-based transport networks.
Two-seater models of the i-Road will also take part in a vehicle sharing programme in the French city of Grenoble over the next four years.
Copyright Press Association 2014