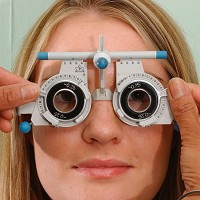 Regular compulsory eye tests for all drivers would be supported by an overwhelming majority of UK motorists.
Road safety charity Brake is asking the government to consider introducing such measures to help combat the 2,900 casualties caused each year by poor eyesight on British roads.
It recommends the mandatory tests would be taken when drivers renew their driving licence every 10 years.
This would be a significant change to current legislation, which only requires that a driver can read a number plate from 20 metres away.
Brake argues this is an insufficient test which fails to fully evaluate visual field and sight defects.
Julie Townsend, deputy chief executive of Brake, says the potentially lifesaving move represents "common sense".
"Clearly the public agrees that the government needs to act to tackle the alarming number of drivers taking a lax approach to their eyes," she adds.
Around 1.5 million British drivers have never had an eyesight test. Brake claims a proportion of 87% would back its proposal.
Scientific research suggests a person can lose 40 per cent of their vision before even noticing.
Copyright Press Association 2014