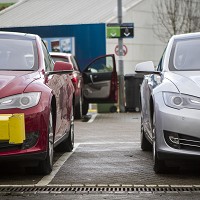 Tesla is recalling all of its Model S vehicles after the US firm uncovered a manufacturing glitch affecting seatbelts in one of its European models.
The electric vehicle company has stated that while this vehicle was not involved in a crash, the front seatbelt would not have provided full protection if an accident had occurred.
Tesla has said that concerned drivers can carry out a test on their cars before they go in for inspection. But it stresses that the inspection is still needed, regardless of the results.
Only about 1,000 of the 90,000 Tesla Model S vehicles being recalled are in Britain.
Tesla has been expanding in the UK in recent times, creating six new charging points and another store last year, creating several new jobs .
The company says it has voluntarily recalled every Model S as a precautionary step to inspect the seatbelts and ensure they are all properly connected.
Tesla says this is as a "proactive" measure, despite inspections having already approved seatbelts in more than 3,000 of the all-electric cars since the issue arose.
The firm suggests a self-testing procedure drivers can undertake before a Tesla mechanic can inspect their car.
All they need to do is pull on the portion of the seatbelt that covers the lap, which may reveal that it is not properly connected.
Copyright Press Association 2015. Motoring News articles do not reflect the RAC's views unless clearly stated.