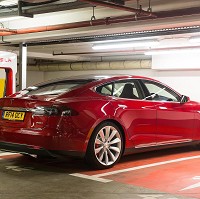 Britain has recently become the latest country to join the rapidly expanding network of Tesla Superchargers, allowing electric car owners the luxury of speedy charging in major cities.
Tesla Motors has installed two of its Supercharger stations in London and Birmingham, in partnership with the Hyatt Regency hotel chain.
These public stations can provide an electric car a 170 mile range after only a half-hour charge.
The two companies hope that the stations will serve as a visible reminder of their joint motivation to support electric car drivers while attracting people to use the Hyatt Regency's various amenities.
The move follows Tesla's commitment to build a nation-wide supercharger network in its native USA and then expand into the UK and Europe.
The company has been focusing its attention on this network after the successful launch of its new Model S electric car and plans to continue to do so in the near future.
This is good news for British electric car owners as the company aims to have 10 of the charging stations in the UK by early 2015, meaning that all of England and Wales will be less than 170 miles from one at any time.
Copyright Press Association 2014