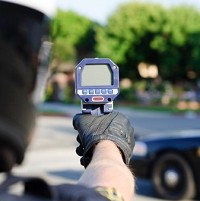 A teenager has been clocked by police travelling at three times the speed limit in a 30mph zone, officers have said.
The 18-year old allegedly sped through the village of Wroughton, Wiltshire at 89mph, and failed to stop when officers from Wilthsire's road policing unit attempted to flag down his red Ford Fiesta.
The officers were using hand-held laser devices on Swindon Road when the incident occurred at 11.50pm, and the officers later arrested an 18-year old man from the Wanborough area on suspicion of dangerous driving and failing to stop.
He has since been released on bail pending further inquiries which could lead to prosecution and a severe hike in car insurance premiums.
Sergeant Barrie Card, of the roads policing unit at Wiltshire Police headquarters in Devizes, said the incident could have had catastrophic consequences.
"This is by far the highest speed I have ever recorded within a 30mph limit in a built-up area," he said.
"Travelling at such an incredible speed is clearly very dangerous and would give the driver absolutely no time to react if a pedestrian wandered into the road."
Copyright Press Association 2012