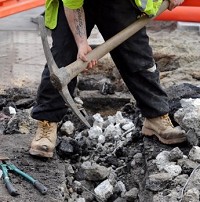 They're the one of the main scourges of motorists' lives. But the problem of roadworks could be eased by new technology by simplifying the way councils and utility firms manage them.
Local Transport Minister Norman Baker announced that October 1's electronic changes will update the way roadworks are co-ordinated and administered.
They will make it simpler and quicker for councils and utility companies to share information.
This technology will ensure that more data on the timing and co-ordination of roadworks can be stored on one computer system.
Mr Baker said it could save councils and utility firms 2,000 hours every week and the street works sector is expected to net savings of £14.3 million over the next decade.
All councils and utility companies will be legally obliged to use the new Electronic Transfer Of Notices (or ETON) system by April 1, 2014.
Copyright Press Association 2013