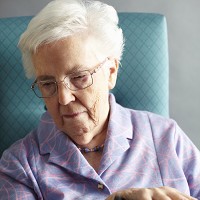 Motoring may still be an option for older people with disabilities or restricted mobility in the future thanks to "game-changing" driverless cars.
The International Longevity Centre UK 's (ILC-UK) study argues the technology will "transform" pensioners' lives by making them more mobile.
And this could happen in years, not decades, they say.
The study says that 1.45 million England-based pensioners are almost stranded in their properties due to inaccessible or bad public transport connections, especially in the countryside.
In addition, driverless technology may even save them three-figure sums in car insurance premiums. This is if trials demonstrate that fully-automated cars help to lower accident risks, as has been claimed.
KPMG accountants said such premiums could be cut in half by the end of the decade as the amount of self-driving vehicles increases on the UK's roads.
The Age UK charity called the technology a possible "game-changer".
The Government poured £10 million into the country's first driverless car "real world" tests earlier this year across Milton Keynes, Coventry, London and Bristol.
Across the Atlantic, Google announced last month that it would soon be trialling similar technology on Californian public roads .
The ILC-UK report suggests such technology cannot come quickly enough for large swathes of the elderly population. It found that transport connections are letting down society's most vulnerable people and are unprepared for the country's increasingly ageing population.
ILC-UK challenged experts to devise answers to solve such problems. They concluded that neither disability nor restricted movement need be a barrier to driving with driverless cars on the scene.
This could be especially beneficial to those in remote regions as well as those who struggle to get to rail stations or bus stops, they add.
Copyright Press Association 2015