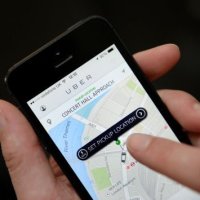 Taxi drivers have dropped their legal bid to try to overturn the original decision to grant Uber a licence to operate in London.
The Action For Cabbies (AFC) group hoped that a crowdfunding drive would raise the £600,000 needed to start its legal challenge.
But the scheme has fallen £250,000 short, dealing a huge blow for black cabs in their efforts to make the US ride-hailing app illegal in the capital.
The row has raged for four years since Transport for London (TfL) gave the US tech giant a licence for minicabs. Various protests have followed, such as last month.
Uber has gone on prospering in the face of such opposition. The service enables smartphone users to book a vehicle via an app linked to their credit cards.
It has proved cheaper than the black cab's much-regulated industry, dramatically altering the challenges faced by the capital's minicab companies and taxi drivers.
Uber has already won a major triumph earlier in 2016 when TfL scrapped plans to introduce more controls over the service.
But the cabbies' alliance has not given up the overall fight. It proposes to divert legal funds already raised to thwart TfL's hopes of getting every taxi kitted out with contactless credit card readers this October.
The AFC wants to get the rules judicially reviewed before then.
The group's legal argument for getting the Uber licence overturned is that TfL did not follow the right course of action when giving it the permit.
The number of black cabs in London currently totals 22,500, but only half of them have readers installed.
Some cabbies are against the plan because credit card sales come with added fees charged.
Copyright Press Association 2016. Motoring News articles do not reflect the RAC's views unless clearly stated.