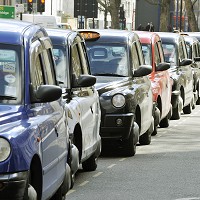 London taxi drivers protesting over new phone app Uber have been slapped with sanctions by the Metropolitan Police.
In a bid to reduce city centre chaos - as thousands of black cab and licensed taxi drivers descend on Trafalgar Square on Wednesday - the police force has issued a statement warning that the demo must not start before 2pm and must not finish later than 3pm, with curbs also placed on the number of attendees.
Reasons for the protest stem from the launch of the new cab service app which allows customers to book and track vehicles.
Unions argue that the technology does not have to follow the same stringent checks imposed on black cabs and is leading to unlicensed drivers being contacted.
The Met said its attempt to contact the event organisers - by letter and social media - have repeatedly failed.
"They have either ignored our approach or been misleading," said Chief Superintendent Pippa Mills, adding: "When the area is congested, no further persons will be allowed to join the demonstration.
"It will be the tactical commander of the event that will determine when the area is congested."
But Steve Garelick of the GMB union's professional drivers branch refutes the claim that police have been in touch for discussions regarding the protest.
"I am available on the phone and all Pippa Mills has to do is contact me. Why the police have issued this statement baffles me," he said.
Copyright Press Association 2014