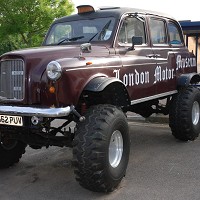 A vehicle more used to picking up fares than fears is being transformed into a Halloween attraction, to be unveiled at a famous capital landmark this week.
Those heading to check out the London Motor Museum's various treasures will be able to catch the spookily customised former London cab.
The FX4 taxi, which was first modified 11 years ago, was chosen as the ideal base for a Halloween-themed truck built for trick-or-treat fans. Both its bodywork and insides have been altered to accommodate a raft of entertainingly haunting features.
Friday's unveiling will see the new Halloween Scream vehicle also appear on the venue' latest mobile app. This enables downloaders to find out all about the museum's past.
Eleven years ago the car had its taxi body replaced with a Chevrolet chassis and engine together with monster tyres.
The museum celebrated its 10th anniversary on April 1.
Copyright Press Association 2014