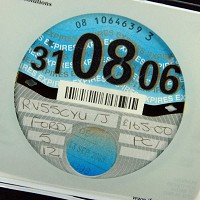 The arrival of direct debit to pay for road tax could save drivers a total of £80 million per year, according to new figures.
From Wednesday the traditional paper tax disc method will change to an internet-based system, allowing direct debit as a payment option.
This will allow drivers to pay a monthly direct debit for their road tax, which will include a 5% surcharge. This is in comparison to the premium for buying a new tax disc every six months, which currently stands at an average of 10%, or £17.50 onto the average tax bill.
This means that the total surcharge paid by British motorists will fall to about £80 million per year from £159.5 million per year.
RAC chief engineer David Bizley said: "For the vast majority of law-abiding motorists the new rules will make very little difference, and in fact the option to pay by monthly Direct Debit from November will make it easier for many to budget for the payments."
Those drivers who choose to pay their annual road tax bill in one payment do not incur a surcharge, while those who pay for six months without using direct debit will still be charged 10%. Along with car insurance , MOT and servicing, road tax is one of the major annual costs associated with running a car.
Over a third (34%) of drivers have struggled at some point to to pay a road tax bill under the previous system, according to the survey from money.co.uk.
Some 17% said they had to use an overdraft, borrow from friends or family or take out a payday loan to meet the cost of road tax.
The new online direct debit system has received a positive response from drivers, with over half (53%) saying they will use it and almost one in five (19%) saying they would willingly pay a surcharge of up to 20% for their payments to be spread evenly over a year.
Copyright Press Association 2014