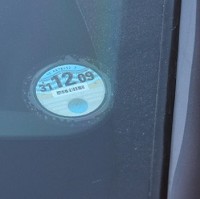 Traditional car tax discs in the UK could be scrapped under new proposals being considered by the Government.
Ministers claimed that eradicating the tax disc, which motorists are legally obliged to display in their front car windows, would reduce "the need for unnecessary paper" and cut costs.
The Government has already begun consultations on digitalising the tax disc after the Driver and Vehicle Licensing Agency (DVLA) revealed that almost all motor record maintenance was carried out on computers.
Roads Minister Stephen Hammond said the move was one of many proposals being considered, but told British motorists that his door is always open if they have a suggestion they would like to put forward.
Mr Hammond said: "If you drive, run a business or pay taxes you will be a customer of ours and I hope you will have your say about how we can improve the services we offer you.
"Much progress has already been achieved and it is now much easier to use digital services to get driving licences and sort out vehicle tax.
"But there is more that can be done and this consultation is about the Government listening to its customers before agreeing the way forward."
Copyright Press Association 2012