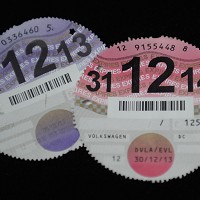 The DVLA's website had difficulty coping with an "unprecedented" number of drivers trying to apply for an electronic tax disc on the day the paper version was scrapped.
The agency publicly apologised as thousands of drivers found themselves unable to use its online car tax system, and urged people to "keep trying".
Under new rules which came into effect on Wednesday, drivers no longer have to display the disc on the windscreens and can simply renew their vehicle excise duty (VED) via the DVLA website or at a Post Office branch.
More than 270,000 motorists successfully used the DVLA online service on Tuesday - 30,000 more than at the same day last year, according to the agency.
However, Wednesday saw so much traffic to the site that the system was unable to cope, which meant that users were faced with slow response times and other difficulties.
A DVLA spokeswoman stressed the website had not crashed but was working slowly.
Bob Dowson from information assurance firm NCC Group said the DVLA should have known in advance how many drivers needed to renew their VED and "should have prepared accordingly".
Copyright Press Association 2014