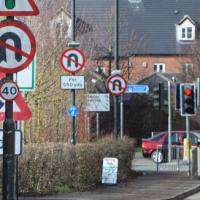 Thousands of pointless "eyesore" road signs could be removed from Britain's roads under new powers that are being given to local councils.
Transport Secretary Patrick McLoughlin says the measures, which have been largely welcomed by the RAC, will help councils rid their roads of pointless signs that can distract motorists and create an eyesore.
The move, he says, could help save councils in England, Wales and Scotland a total of £30 million between now and the end of the decade.
Removing the signs, he adds, will leave motorists with only the essential ones that they require to drive safely.
The Department for Transport (DfT) says a taskforce led by former international development minister Sir Alan Duncan will look at removing pointless signing.
The measures, which are being introduced on Friday, will enable councils to decide, for example, how many speed limit repeater signs are required on their roads.
Other planned changes include enabling permit parking zones and cycle lanes to be signed with just a road marking instead of markings and a sign.
The DfT says there are now more than four-and-a-half million road signs in England - over two million more than there were in 1993.
RAC spokesman Simon Williams said: "Signage is at its most effective when it's well designed and used in just the right location - and that location is rarely one that is surrounded by a plethora of other signs.
"A move to de-clutter our roadsides therefore makes a lot of practical, as well as economic sense, and will be welcomed by the 63% of motorists we spoke to that said our roads are too full of unnecessary signage.
"While responsibility for local signage should rest with councils, we do not believe the option of axing small speed limit repeater signs makes much sense. All road users benefit from regular reminders of the speed limit, especially on roads where the limit is not immediately obvious.
"We welcome 'use by' dates on signage - we've all seen signs announcing 'new road layout ahead' when the layout changed many months, if not years ago. Giving residents the power to ask councils to take down expired signs makes perfect sense, although we hope that cases of people having to do this will become exception rather than the norm."
Copyright Press Association 2016. Motoring News articles do not reflect the RAC's views unless clearly stated.