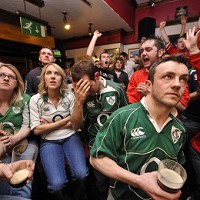 Road safety charity Brake is calling on Rugby World Cup fans to kick drink-driving into touch.
The six-week tournament is being hosted at stadiums across England and Wales from September 18.
Brake is urging fans to help tackle a potential increase in drink-driving by steering clear of booze altogether if they are driving home from games or pub screenings.
The charity says one in seven deaths on British roads is the result of an accident involving a motorist over the drink-drive limit.
And it says around 65 more deaths are caused each year by drivers who are below the legal limit but have been drinking nevertheless.
Brake's campaigns manager, Gary Rae, wants Rugby World Cup fans to make a pledge to avoid drinking altogether if they are driving and to make plans to ensure they and their friends can get home safely after the matches.
He says with even a small quantity of alcohol increasing a driver's risk of having an accident, the charity wants motorists to abstain totally during the Rugby World Cup and beyond.
Brake's ongoing Not a Drop, Not a Drag campaign is calling on the Government to introduce a zero tolerance approach to drink driving by slashing the legal limit from the current 80mg of alcohol per 100ml of blood to just 20mg.
Copyright Press Association 2015