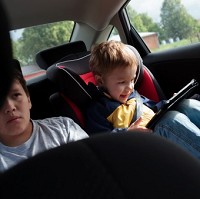 Motorists are using tablet devices as "technological nannies" to keep their children occupied in the car, research from bespokeoffers.co.uk suggests.
Almost half (46%) of parents with children in the three-to-15 age range don't set off on long trips without having such a computer on board. This is especially the case with the school summer holidays underway.
Ronnie Denholm, managing director of bespokeoffers, which undertook the poll of 2,000 adults, says tablets have become a key holiday companion.
Children are kept amused and free from back-seat tempers during long summer trips via games, films and apps, leaving parents free to concentrate on the driving.
In fact, four out of 10 parents have bought a second device specifically for their offspring, the discount website found. This reinforces recent Ofcom research which showed that a tenth of toddlers and over seven in 10 children aged five and 15 years own one.
A year ago the RAC found that traditional family in-car games such as I Spy were proving an equally good distraction on long European journeys.
The RAC has also compiled a list of 10 top in-car "old school" games for families short of inspiration. Games include tunnels, buzz, fortunately-unfortunately, pub cricket, banana game, squabble solution, road sign games and, of course I Spy.
Mr Denholm called Britain a "gadget-loving" nation with the so-called "nanny tablet"'s emergence helping to ingrain such technology in famly life.
The same research shows that today's typical child has gadgets worth £376 at the age of seven years old. This sum increases to £452 by the time they turn 15.
Such technological riches are furnishing Britain's young children with a new range of digital skills, the study suggests. It means that the average eight year old can get to grips with devices and gadgets more quickly than their parents can.
Copyright Press Association 2015