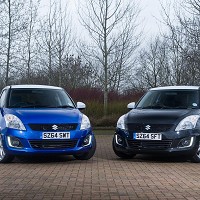 Suzuki has seen worldwide sales of its Swift compact car go from three to four million in just 18 months.
The Swift is a true global success for the Japanese car giant. Originally built for the manufacturer's home market in 2004, a year later the model was being built in Hungary for Europe and for the emerging markets in India and China.
It is now also being produced in Malaysia, Pakistan, Thailand and Vietnam.
Swift sales in the UK have reached 90,000 and they make up just under a third of the Suzuki cars sold in this country. Like all Swifts in Europe they are built at Suzuki's Magyar factory in Hungary.
But the most important market for Suzuki is India. A half of all the Swifts sold around the world are bought in India, while Japan makes up just over a 10th of its total sales. Around a fifth of all Swifts are bought in Europe.
The Swift can be seen on the roads of 140 nations and has 70 top global motoring industry accolades to its name.
Buyers in the UK can choose from Swift models with three or five doors. Most come with a 1.2 petrol engine with emissions of 116g/km CO2. The latest Swift also comes with a five-star Euro NCAP safety rating.
There is also a 1.6 Swift Sport with enhanced tuning, steering and brakes. Like the SZ4 version the Swift Sport comes with a built-in sat nav system, DAB digital radio, Tyre Pressure Monitoring System (TPMS) and gearshift indicator as standard.
Every Swift model other than the Sport also features front fog lights and LED daytime running lights.
Copyright Press Association 2014