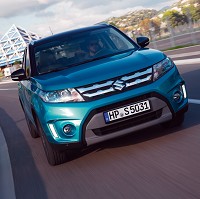 A Japanese car manufacturer has announced its new stable for the period between 2015 and 2017.
Suzuki fans thinking of buying a car over the next three years will be spoiled for choice. The firm will introduce half-a-dozen fresh models at two cars per year over this time.
They include a city car, the Celerio, and a new compact sports utility vehicle (SUV), the Vitara, in 2015.
These will be followed by a new supermini and a new-gen Swift Sport.
Suzuki GB's Dale Wyatt let a handful of reporters know about the firm's mid-term plans.
He said the supermini will enjoy the benefits of more space and a larger boot than the Suzuki Swift as well as being 14st 2lbs (90kg) lighter.
Mr Wyatt also promised that its sleek new city car will be an unprecedented addition to the market.
Its upgraded Swift, with a 1.0-litre engine with three cylinders, will aim for 84g/km of carbon dioxide emissions with the hope of even pushing towards 90mpg.
Mr Wyatt hinted that the lighter, upgraded Swift Sport may see its torque-to-weight proportions raised but would not comment on whether it will be turbocharged.
Copyright Press Association 2014