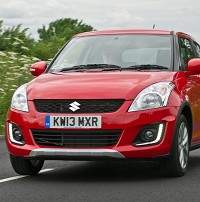 Suzuki is well-known for the quality of its 4x4 offerings and it is preparing to launch its latest, the 4WD Swift , in the UK this month after impressive sales figures in Japan, Germany and Switzerland.
The Swift 4x4 is a five-door 1.2 petrol car and it comes in two grades, SZ3 and SZ4. The former looks very similar to the 2WD Swift SZ3, apart from different badges and 25mm higher body. Front and rear skid plates on the SZ4 are accompanied by black side skirts and wheel arches to provide more protection and this tougher version is the one to pick if drivers want to avoidbreakdowns when driving over rugged terrain.
The 4WD Swift features a permanent, automatic 4WD system with viscous coupling to deliver extra torque to the rear wheels. This makes it even more impressive when cornering.
Suzuki's VAT free offers mean drivers can pick up a Swift 4x4 for as little as £11,516 for the SZ3, but the extras that come with the SZ4, including daylight running lamps and folding door mirrors with indicators, take the price to £13,116.
Copyright Press Association 2013