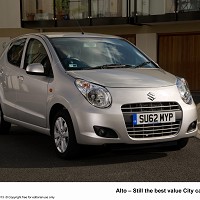 The Suzuki Alto SZ, SZ3 and SZ4 will be available from £5,999 up until the end of March after Suzuki announced it has extended its VAT free offers on the model.
This means the Alto SZ remains the best value city car currently available in the UK as it has CO2 emissions of only 99mg/km, which means drivers do not have pay road tax or the London Congestion Charge.
Suzuki says this can lead to further savings of up to £2,600 a year, leaving drivers with more cash to spend on other motoring essentials such as car insurance .
Motorists opting for the Alto are also likely to save even more money on fuel, as the car has an EC combined figure of 67.5mpg.
The Alto has a turning circle of 9.0 metres and is fitted with CD audio and two speakers, electric front windows, full body colour bumpers and central door locking.
It is available in seven colours, five of which come with an optional metallic finish, and can be delivered immediately.
Copyright Press Association 2013